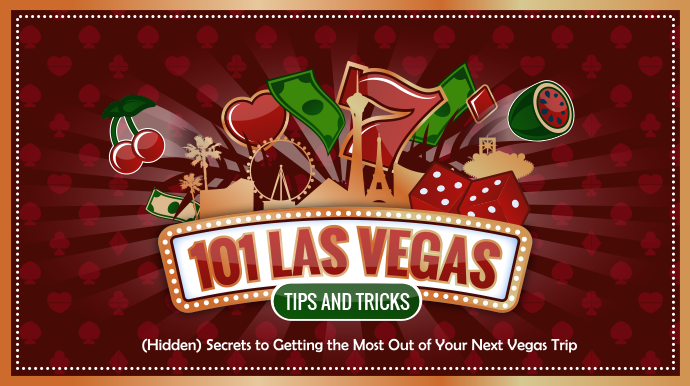 Live casinos are a ton of fun but they can be notoriously expensive – especially if you make a vacation out of traveling to a major gambling destination like Las Vegas. For all you live gamblers out there, I have 101 Las Vegas tips and tricks (updated for 2015-2016) that you can use to make money, save money and basically just have more fun in Sin City.
I've organized them into seven different sections so the page is easy to use. The sections are as follows:
I hope you enjoy all 101 tips, but feel free to skip to the section that you're interested in. The "Getting Around Las Vegas" section has a wide range of general tips about the town so make sure you don't skip it. The other big section is the playing casino games section. It's filled with great advice about gambling games of all kinds.
I've also included some links to other resources where appropriate. I always right click on links and open them in a new tab or new window so I don't lose my place on the page where I'm reading. If you do this you can come right back and finish reading the 101 tips.

Preparing For Your Trip
Practice poker online before you play live
A little practice in online poker is beneficial in helping you learn the structure of the game and see how each hand progresses. You won't become an expert at poker, but you'll at least be comfortable with the order of play.
Set a daily gambling budget
It's one thing to set a gambling budget for your entire trip, but it's even better to break your gambling budget up into days. That way you won't accidentally run out of money before the trip is over and be tempted to hit the ATM and spend more money than you intended. If you have money left over any day you can put in your pocket and call t profit or divide it up and add it to your remaining days on the trip.
Prostitution is not legal in Las Vegas
Prostitution is rampant in Las Vegas, but it isn't legal. You can find hundreds of "escort" services all around Las Vegas, but proceed at your own risk. Prostitution is a shady business in Las Vegas and many things can go wrong. If you're interested in that sort of thing, you can find legal brothels in other cities in Nevada.
Pay for your return trip in advance
Whether you drive or fly to Las Vegas, make sure your return trip is paid for (this includes a full tank of gas). That way, you can still get home if you lose your wallet or gamble too much. I hope this tip doesn't come in handy, but you never know.
Bonus Tip
Jean Scott is called the Queen of Comps and it's not a bad idea to check out her blog for ideas when planning your trip.
Getting to Las Vegas
Consider scheduling your flight during the off season
Major gambling destinations experience peak seasons and slow seasons. You can get a significant savings if you schedule your flight during one of those off seasons. The Las Vegas offseason occurs during the spring and summer time. If you're flexible, consider scheduling your vacation during the "off months" of Vegas.
Get a good deal on your flight
A little online research will take you a long ways in saving money on your Las Vegas flight. Compare prices at travel websites such as Hotwire.com and Travelocity.com. You should also check the websites of specific hotels in Las Vegas for special hotel/flight packages. You can sometimes get great deals if you book a package vacation.
Show a $20 and ask for a room upgrade
I've heard you can get a room upgrade sometimes if you slip the front desk attendant a $20 and ask for an upgrade. Be polite, be discreet and give it a shot. Don't act like a big shot or make a big deal of it. If you get the upgrade, that's great. If not, nothing was lost. This is more likely to work during the week when they're more likely to have vacancies.
Use the hotel safe to keep your valuables
If you have valuables or a lot of cash, ask the hotel for its front desk safe. Don't store valuables in your room. 99% of the hotel employees are trustworthy, but it's not worth taking a chance. Most hotels will let you use the safe for free.
Be ready for insane hotel fees and charges
Hotels are using all kinds of dirty tricks to increase revenue without having to raise their stated room prices. If you stay at any hotel in Las Vegas, don't be surprised if you get charged "resort fees," room cleaning fees, charges for using the coffee machine, internet charges, fitness center charges and much more. You can always call ahead and ask for a complete quote for the room. Have them email it to you so you can pull it up on your phone if they charge you more.
Know the routes your cab drivers are taking
Some cab drivers love to take you the long way and add an extra $20 to your fare in the process. Know your routes – especially from the airport to your hotel. Tell them to take Swenson Street, not the freeway. Take a minute to map the route from airport to your hotel before you travel.
Playing Casino Games
Learn the games before you go
This sounds pretty obvious, but a lot of people neglect to learn how to play certain games before they visit the casino. If you visit Las Vegas or somewhere else without knowing how to play certain games, you'll miss out on a lot of potential fun. Take the time to learn the basics of craps, roulette, blackjack, and any other game that might interest you.
You can also practice casino games online before you visit the casino. You can visit any of the best online casinos to sign up for an account and then you can either practice for free or play for real money.
Learn basic blackjack strategy before you go
Blackjack is one of the best casino games for the money conscious gambler. The house advantage is well known for being very low in blackjack. However, you have to play with the correct blackjack strategy if you want to keep the house advantage low. Casinos let you use blackjack strategy cards at the table, but you should still have a basic understanding of how to play blackjack the smart way.
Call ahead if you want to play in a specific poker game
Some casinos (not all) will put you on the waiting list for a certain poker game if you call ahead. Do this if you have your heart set on a certain game or will be playing during a busy time of day. If you can't call ahead, you'll at least want to visit the poker room in person and put your name on the list. Your name will be called once a seat opens at your table.
Throw the dice correctly in craps
Craps is an exciting game and I highly recommend giving it a try while you're at any live casino. The rule at most casinos is that you have to throw the dice far enough so that they hit the back wall and keep the dice below eye level when you throw them.
Take it easy on the alcohol while gambling
Free alcohol is a huge perk of live gambling, but don't get carried away. There's nothing wrong with having a drink or two, but don't go on some sort of crazy binge. Get too drunk at the tables and you might just wake up with that old "uh oh" feeling and an empty wallet.
Don't be sidetracked by gambling systems
Gambling systems such as the Martingale system look good on paper, but they don't work in practice. Gambling systems will not make you a guaranteed winner. All they will do is tempt you into wagering more money than you should. Michael Bluejay has an interesting half bankroll strategy that you might consider if you like to learn about systems.
Don't place bigger bets to chase losses
There is no faster way to blow your gambling money than to chase your losses with bigger bets. Casinos make a lot of money off people who chase their losses. No matter what happens, stick to your gambling limits at all times.
If you want to save money, avoid the slot machines
Slot machines are a lot of fun, but they can get expensive in a hurry. Not only do they have a high house advantage, but they also move at a fast rate. If you do decide to play slots, make sure you set strict betting limits. Learn how to play the best video poker games if you enjoy a gambling machine that offers a lower house edge.
You can find lower table minimums off the strip
Strip casinos have higher table minimums than off-the-strip casinos. If you're gambling on a budget, check out some of the downtown casinos.
Newbies can take advantage of free gambling lessons
Many casinos offer free lessons for popular games during the day. Your hotel will have flyers somewhere or you can ask the front desk or one of the dealers. Most free lessons are in the morning when the floor is the least busy.
Play blackjack however you want
Some of these wannabe blackjack rock stars like to yell at other people for making the wrong play at the wrong time and somehow messing up the game. Don't listen to these suckers. The cards are completely random and no stupid play will cause the rest of the table to lose. One of the best groups of pages online about blackjack is at the Pagat cards site.
Remember that jackpots do not become "due" to hit
Jackpots at slot machines or other games are completely random. It doesn't matter if your game paid out a million dollar jackpot yesterday or four years ago; the odds of hitting it are exactly the same. Slot machines don't have brains and don't remember when they're "due" to hit.
Don't be intimidated by craps
Craps looks intimidating if you don't know the game, but it's fairly easy to get started. Take a little time to learn the rules of craps and give it a shot. You'll have a lot of fun with craps due to the noisy crowd and sense of rapport that you develop with the other craps fans.
All you have to do to start playing is wait for a come out roll and place a bet on the pass or don't pass line.
Look for single deck blackjack downtown
You can find single deck blackjack games in certain downtown casinos. Single deck blackjack is very rare these days but it does exist. People like single deck blackjack because it has the best odds for the player and makes the life of card counters much easier.
Don't be fooled by fake single deck blackjack
Some Strip casinos claim to have single deck blackjack but they alter the payout rules to keep the house advantage higher. You'll often see single deck blackjack that pays 6:5 on blackjack instead of 3:2. Instead of playing one of these terrible games learn how to play Spanish 21. It's a blackjack variation that has a low house edge.
Betting limits are lower during the week and during the day
Budget gamblers will find the lowest betting limits during the day and in the middle of the week. Casinos raise their minimum wagers at night and on the weekend.
Play baccarat for a low house advantage
Baccarat is right up there with blackjack for having the lowest advantage in the house. Many casinos only offer baccarat in the high rollers area, but you might find mini-baccarat or midi-baccarat in the regular area.
Don't be fooled by past results
Certain games like roulette and baccarat have a scoreboard that shows the results of previous rounds of play. Many gamblers pay religious attention to these scoreboards, but past results don't affect future results. Gambling is purely, 100%, absolutely, always, random.
Play poker for the best odds in the casino
Multi-player poker does not have a built-in house advantage like other casino games. If you learn a little poker strategy and play a disciplined game, you can actually earn money over the long run at poker.
Wager the maximum number of coins at jackpot slot machines
Most jackpot slot machines (especially progressive jackpots) require you to wager the maximum number of coins to even have a chance at winning the jackpot. Wager the maximum number of coins and lower the coin denomination if you need to.
Wager the maximum number of coins at video poker machines
You lower the house advantage in video poker by wagering the maximum number of coins. Royal flushes always offer a special bonus for people that wager the maximum number of coins.
Pocket your big wins
If you catch a big win, make sure to pocket at least some of it. Lock in your wins and then gamble with the casino's money the rest of the time. This tactic doesn't actually change the house advantage or anything, but it's good for the mind. Plus, you'll still have a little money left over if you hit a bad patch of luck.
Set a time limit for each gambling session
A time limit is just as important as a stop-loss limit. Set a maximum amount of time that you want to gamble and stick with it. Quit when your time is up no matter how much money you're up or down.
Quit if you start to feel angry or upset about your losses
Getting angry or "going on tilt" can lead to devastating consequences. If you start to feel angry or get that desperate urge to win back your losses, it's time to quit. Gambling while under the influence of your emotions will lead to bad decisions and even more losses.
Learn the craps "odds" bet
The odds bet in craps is one of the best bets in the casino. This is one of the only bets in the entire casino that is paid at true odds. What this means is that the payouts accurately reflect the odds of winning the bet. The house advantage of this wager is exactly 0%.
The catch is that you can only place this wager in a round after placing the pass line or don't pass line bet. So to place this bet, you must first place the pass line (or don't pass) bet, which does have a small house advantage. The more money you bet on the "odds" bet, the more it reduces the total combined house edge. In other words, bet as much as the casino allows on the odds bet.
You place the odds bet by placing your chips on the layout behind the pass line or don't pass line area after the point has been established. The odds bet wins if that point is thrown again before a seven. The payouts on the odds bet vary based on the current point:
Point    Payout
4 or 10 2 to 1
5 or 9   3 to 2
6 or 8   6 to 5
Play at European roulette wheels whenever possible
Most Las Vegas casinos stick with American roulette but play at European roulette tables whenever you have the choice. European roulette has only a single zero slot instead of a zero and double zero and therefore has half the house advantage compared to American roulette.
Try to minimize all contact between your hands and the blackjack cards
Casinos want you to keep your blackjack cards on the table and in plain sight throughout the course of the night. Some blackjack tables have strict rules that don't allow you to touch the cards at any point.
Don't take insurance in blackjack
Insurance is a sucker's bet that plays upon your fears of losing. Taking insurance raises the house advantage and ultimately makes you a less profitable blackjack player. (If you count cards you'll learn when taking insurance can be profitable, but it doesn't happen very often.
In craps, handle the dice as little as possible
Casinos don't want you to hide the dice in your hands or take forever to throw the dice. Just pick them up, throw them and keep the game moving.
In craps, only handle the dice with one hand at a time
Do not hold the dice in both hands at the craps table. If you need to switch hands, put the dice on the table and grab them with your other hand.
Learn the strategy for specific video poker variants
Video poker comes in many different variants such as Jacks or Better, Deuces Wild, and so on. The strategy for each game is a little different so make sure you learn the strategy for that specific variant.
Card counting works, but it's not easy
Card counting in blackjack can reduce the house advantage, but it's not the easiest thing in the world in a noisy casino environment. On top of that, casinos notice if you start adjusting your bets when the deck is rich in Aces. You can' be arrested for counting cards but casinos can make it a very uncomfortable environment for you.
Just make sure you don't use any devices (computers, clickers, etc.) to help you count cards. If you're caught using any sort of device to get an advantage at the casino, you'll be in big trouble. It's not worth the risk.
Learn new games in the morning
If you want to learn how to play a complicated game such as craps, go the casino in the morning. There are less people around during this time and you can get more help from the dealers and other gamblers. Additionally, you just might find a few free lessons running.
Pass on keno
Keno boasts big jackpot numbers but the game has terrible odds. You're better off playing any other game in the casino, unless your goal is to play as long as possible on a small bankroll. You can bet $1 per draw and most casinos only have 6 to 12 drawings per hour. The house edge is still huge but you can play for cheap.
Watch out for locals at the poker table
If you play poker, watch out for players who know the dealer or recognize each other by name. These players are probably pretty decent poker players that you should avoid.
Can't make it to Vegas this year? Try live dealer casinos
Live dealer casinos are online casinos that use webcams and real dealers to give you the most realistic online gambling experience possible. Check it out if you can't make it to a live casino.
Poker tournaments give you a lot of action with limited risk
Poker tournaments can provide you with hours of entertainment for a fixed buy in fee. As long as you don't bust out early, you'll get a lot of gaming action without having to spend a bunch of money.
Slots and blackjack tournaments also give you a lot of action with limited risk
Slot tournaments and blackjack tournaments have a fixed buy in and then you get to gamble with play chips during the tournament. Avoid tournaments that require you to gamble your own money during the tournament. Bob Dancer has a nice article about slot tournaments and video poker tournaments.
The easier the game is, the greater the house advantage
For the most part (but not always) easy games have a higher house advantage than more difficult games. Blackjack and craps are known for having low house advantages but they're not easy games to learn. You can check out a ton of gambling game calculators at the Wizard of Odds site.
Easy games such as keno and slot machines tend to take your money much faster. One notable exception to this tip is baccarat. Baccarat is both easy to play and easy on your wallet.
Don't waste your time looking for "loose" slot machines
Slot machines are random and your chances of winning are basically the same at any machine. Casino managers/owners don't have the ability to adjust the payout rates of their own slot machines whenever they want. They have to get help from the tightly regulated manufacturers of slot machines.
Never bet on the tie in baccarat
Baccarat has a very low house advantage if you avoid the tie bet. The banker bet has a house advantage of 1.0% and the player bet has a house advantage of 1.24%. The tie bet, by contrast, has a house advantage over 14%.
Raise all pairs in Caribbean Stud Poker
Even pairs as low as 2-2 should be raised in Caribbean Stud. The mathematics behind the game tells us that the best move with any pair is to raise.
Never bet on the tie in Casino War
Casino War has an average house advantage of 2.8% if you skip the tie bet. The house advantage on the tie bet varies from casino to casino, but it can be as high as a whopping 35%.
Never surrender in Casino War
Surrendering locks in an automatic loss in Casino War. You gain nothing by surrendering. Always push forward in Casino War.
Go watch a game in the sportsbook
You don't have to be a big sports bettor to have a good time in any Vegas sports book. If there's a big game on, go check out the sports book lounge. The atmosphere is lively, the TV setup is great and the beer flows quite liberally. Just don't start betting on games you haven't done your homework on. If you're not a handicapper your losses can quickly start adding up.
Take it easy on the sports parlays
Sports parlays promise great payouts, but the house advantage is usually higher on parlay bets. There's nothing wrong with going for a big win, but I don't recommend parlays as your primary form of sports betting. If you bet parlays, be small amounts and save your large bets for straight bets with or against the spread.
Don't kill yourself if someone hits a slots jackpot right after you leave the machine
Every spin of the reels is completely random, so don't feel bad if you leave a slot machine and someone hits a jackpot. Well, you'll probably feel bad anyways but don't kill yourself over it. You wouldn't have pulled the lever at the same exact millisecond as that other player and the random number generator would have created a different result. There's nothing you could've done differently in that situation.
Find the best poker rooms in Las Vegas
It's really hard to narrow down the list of the best poker rooms in Vegas because there are a lot of great places to play poker. Some of the best poker action can be found at the Bellagio, the Venetian, the Red Rock Casino, the Wynn, the Mirage, MGM Grand, and Caesars. Also, just because a room is the biggest doesn't mean it's the best. Some of the smaller rooms have great games too.
How to find the best blackjack tables in Vegas
Blackjack rules and house advantage vary wildly in Las Vegas. The only up-to-date resource that provides you with the latest updates on Vegas blackjack is the bj21.com newsletter. It costs $30 per quarter or $99 per year. I wish there was some sort of free resource out there, but this is the only group that frequently sends people to various casinos to check in on the games.
Eating the Food
Room service can be expensive
It's probably cheaper to take the elevator down to the buffet or other restaurant in the casino instead of ordering room service. Of course there's nothing wrong with being catered to, but check the prices before placing an order.
Take advantage of the food in Las Vegas
Las Vegas has exceptional dining. Although Vegas may seem a little gaudy at times, it really is home to world renowned chefs. Get at least one nice meal while you're in Las Vegas. Also, don't overlook the buffets. You'll find some surprisingly good food at the right buffets. The buffets at Bally's, the Bellagio, and the Wynn are all highly rated.
Not every buffet in Vegas is amazing though. You can always take a look at the food before you pay.
Though it's been a few years since I've been there, the best meal I've had in my life was at the Stratosphere. The steak was unbelievable and the view can't be beat.
Check the prices before you enter any restaurant
Food prices vary by a wide range in live gambling destinations. If you walk into any random restaurant, you might be pleasantly surprised or you might end up washing dishes to pay for your tab.
Hit the Bellagio buffet once
The Bellagio buffet is famous for giving you the best bang for your buck. Breakfast is $15.95, lunch is $19.95, and dinner is $29.95. Once you pay, you get as much food as you want. The Bellagio buffet is full of all different types of gourmet food. They do everything, but they do it right. But get there early – it's a very popular buffet.
Getting Around Las Vegas and General Tips While In Town
Know how taxis work in Las Vegas
Most people are surprised when they find out taxis cannot stop just anywhere on the strip. If you want to catch a taxi, you'll have to wait for one at a marked taxi pickup area or near the entrance of any major resort. So don't feel bad if taxis are passing you by on the strip – they're not allowed to stop wherever they want.
Bring a jacket
Las Vegas has a well-deserved reputation for hot temperatures, but bring a jacket with you. The desert can get chilly at night and some casinos will freeze you out.
Look out for scammers
Las Vegas is a fairly safe place, but it's well known for being home to lots of scammers and hustlers. Don't do business with people who approach you on the street. They might claim to have free tickets to shows, discounts, call-girls or whatever. Instead, use the Internet to locate good deals on your own or talk to the front desk where you're staying.
Don't jaywalk
Jaywalking laws are actually enforced in Las Vegas. Plus, it's just not a very good life strategy to jaywalk in one of the biggest, busiest party cities in the world.
Bring a pair of comfortable shoes
You'll do a ton of walking in Las Vegas and comfortable shoes are a must. Trust me.
Free Internet access in Las Vegas
Some places charge you upwards of $10 an hour for Wi-Fi internet access; others give it to you for free. Here's a list of free Wi-Fi hotspots: free Wi-Fi
Bring your own bottled water
Stop at a pharmacy or grocery store and stock up on a little bottled water. Nothing is cheap in Vegas – not even water. You'll be especially glad you got your own water if you plan on drinking during your trip.
Remember that you're still subject to the consequences of your actions
It's fun to get crazy in Vegas, but remember that you're still going to have to deal with the repercussions of any mistakes that you make while you're in town. Don't go steal a police car Hangover-style and expect to get away with it.
Bring sunscreen no matter which month you visit
Vegas is pretty much always sunny. Bring a little sunscreen no matter what month it is.
Try to see a Cirque du Soleil show
Cirque du Soleil is a ridiculously good show. It's a wild performance show that combines acrobatics and special effects to create an experience that you just can't explain in words. It's an amazing show. Go look up some clips on YouTube and you'll get an idea of what Cirque du Soleil is all about. They even have DVD's available, so check one out before traveling. You might need to get your tickets early.
Don't rent a car in Las Vegas
You don't need to rent a car in Las Vegas unless you plan on travelling around to attractions in the outlying areas. And even then, most major attractions have shuttle services to and from the Strip. From your hotel room, everything you need is within walking distance or can be reached quickly via cab.
Recharge at the famous swimming pools
If you go out at night and party hard, the swimming pools are a great place to recover the next day. Go lie in the sun, drink some water and enjoy the day. You'll feel better before you know it and be ready for another big night.
Don't take photos inside the casino without first asking
Casinos take security very seriously. Don't bring your camera in and whip it out without talking to someone first.
Don't brag about big wins
If you win a bunch of money, stash it in the hotel safe and keep the information to yourself. Slot machines might make a lot of noise if you win big, but there's nothing you can do about that. The fewer people that know you have won big, the better it is for your safety. If you win big and want to keep the money with you, ask the casino for a few large denomination chips. A $5,000 chip doesn't take up much space in your purse or pocket.
Put your big chips on the bottom of your stack
Chips at the bottom of your stack are more difficult to steal than chips at the top of your stack. Put your most valuable chips at the bottom of the stack and your least valuable chips on top.
Put your wallet in your front pocket
Las Vegas is not a dangerous city, but it's pretty well known that people walk around there with a lot of money. Keep your wallet in your front pocket in order to ward off any potential pickpockets. Keeping your wallet in a front pocket breaks away from the norm and makes it easier to detect anyone grabbing at your wallet.
Set up specific meeting points for your fellow travelers
Live casinos are BIG places and it can be tough to find your friends if you get separated. Designate a specific meeting area in the casino for your meeting point.
Watch out for pedestrians if you drive down the Strip
You'll find there's a lot to see on the Strip, but you have to pay attention to driving. Don't be distracted by all the sights and sounds of the Las Vegas Strip. Most importantly: look out for pedestrians. Many of them will also be distracted, confused, drunk, and generally unpredictable.
Visit the high roller's area if you need to poop
The higher roller's area has better bathrooms with fewer people in them. Visit this area if you need to take care of some serious business.
Bring lip balm to Vegas
A combination of the desert atmosphere and abundant alcohol make it likely you'll be screaming for lip balm by the time your trip comes to a conclusion.
Make plans so you can have fun no matter what
Most people lose at the casinos in Las Vegas – that's how they have such big, beautiful buildings all over the place. It's OK to lose money at the tables as long as you understand the risk. Look at gambling losses as the cost of a good time. If you never gamble more than you can handle losing, you'll have fun no matter what happens.
Plan to visit some of the attractions, take in a few shows, and enjoy some fine dining no matter what happens at the tables.
Gamble before you go clubbing, not after
First of all, you don't want to gamble after a night of drinking. Secondly, you can pre game at the casino with complementary drinks and spend less money inside the club. Win-win.
Leave the beaten path for a day
Las Vegas has much more to offer than gambling, nightclubs, and drive-thru weddings. You can check out my odd things to do in Vegas article for a few ideas. A couple of things you can do in and around Vegas include shooting Uzis and eating dinner while hanging off a crane.
Walk through a cool mall on a hot day
If you need to walk off a long night and escape the heat of the day, take a stroll through one of the world famous shopping centers in Vegas. The Forum Shops at Caesars Palace and the Grand Canal Shoppes at the Venetian are both worth a look.
Ride a gondola at the Venetian
The gondolas at the Venetian offer a relaxing getaway for couples and anyone who needs a little downtime. Tickets cost $16 per person and couples can get a private gondola ride for $64 total.
Visit the Bare Pool at the Mirage.
The bare pool is a fancy adult's only pool in which women are permitted to roam topless. You'll be greeted with a free spirit atmosphere, light party music, and private cabanas.
The best nightclubs in Vegas
If you plan on doing any clubbing in Vegas and don't mind spending good money, the best nightclubs in Vegas are: TAO, Tryst, LAVO, Rain, Playboy and XS, Pure, and LAX.
Best pools in Vegas
The pool at Mandalay Bay is widely regarded as the best pool in all of Vegas. Other top notch pools include the pool at the Cosmopolitan, the Mirage, Caesars Palace, Flamingo, Venetian and Hard Rock.
Paying For Services
Tip the dealers
The dealers work a hard and thankless job. Their entire goal is to make your gambling experience as smooth and pain free as possible. If you don't notice the dealers, it means they're doing a great job. Tip the dealers as a "thank you" for providing you with a fun time. They rely heavily on tips and will appreciate anything you can give. And remember, the dealers don't have anything to do with your luck or lack of luck.
Pack a bunch of ones
One dollar bills come in very handy in Las Vegas. They allow you to tip when waitresses bring free drinks and they come in handy if your cab driver tells you he doesn't have change for that twenty you just whipped out.
Tip $1 per free drink at the casino
Tipping $1 per free drink is about average in live casinos. Since you're getting free drinks, you might as well give the waitresses a little token of gratitude. The waitresses work hard and survive off tips.
Tip $1 per bag to the bellmen
$1 per bag is about average for tipping the bellmen.
Split taxis with other people
Taxes can take four people for the same price as one or two people. If you're by yourself or with just one other person, look around for other solo travelers or groups of two. Offer to share a cab and split the bill.
Prepare yourself for noisy nights
Las Vegas is a noisy city at night and you'll notice this from all but the most expensive rooms. If you usually have a hard time sleeping at night, bring a couple of ear plugs with you. You should be tired enough to sleep through anything, but keep this in mind if you're a light sleeper.
Take advantage of free attractions
You'll find there are plenty of free attractions in Vegas that you can use to pass a few hours during your down time. Check out the fountains at the Bellagio, for example. You can find more free Vegas attractions by asking your hotel for a Vegas guide or by searching online.
Pass on credit lines at the casino
Many casinos are happy to let their patrons gamble on credit, but this isn't the best idea. Do I even need to explain why gambling on credit can go horribly wrong? Just bring cash and stop gambling when you run out. You can find plenty of other things you can do and see in Vegas when your gambling bankroll runs dry.
Getting Comped
Get a player's card
If you visit casinos somewhat regularly, a player's card is absolutely vital. Player's cards track your play and help you earn rewards over time. Make sure you carry your player's card with you and present it to every dealer at your games. You can usually use your player's card at the poker room as well. A player's card will let you get comps like free gambling money, free meals, free hotel stays, free flights and more. Randy Ray has an excellent comps primer on his blog.
If You Don't Ask
If you don't ask you won't get. Of course you still might not get if you ask, but in Vegas you'll never know unless you ask. Do you want to see a sold out show? Ask your host or someone at the front desk. They might be able to help. What about a free buffet? Don't count on your player's club card to do everything. If you've been playing for a few hours ask the pit boss for a comp. The worst that can happen is they say no.
Conclusion
Wow! 101 tips and tricks for Las Vegas. Why do I feel like I've only touched the surface? If you enjoy these tips and want me to start building a second page full of great ways to enjoy Vegas, drop me a line. Make sure you include your top tips that I haven't covered yet so I can use them for numbers 102 through 202!
Did you catch the bonus tip or did you skip straight to the end?
If you missed the bonus go back through that tips to find it. You'll be glad you did.