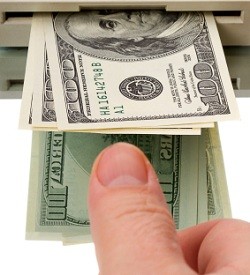 Signing up and depositing at a casino is oh so easy. Even the worst real money gambling sites make it as easy as possible to fund your account. Unfortunately, many casinos do not place as much importance on making the withdrawal process so easy.
Hidden inside the terms and conditions of many a gambling site are little technicalities that make it difficult to withdraw your winnings. Everything from weekly withdrawal limits to vague "bonus abuse" clauses ensnare unwary gamblers into withdrawal purgatory.
The purpose of today's blog post is not to condemn the online gambling industry, but to arm you with the knowledge you need to gamble, win and spend that good money. Let's begin with one of my most hated forms of withdrawal-obstruction.
Maximum Withdrawal Limits
This is a big problem in the US online gambling industry. Almost every real money casino places restrictions on how much money you can withdraw at a time. In many cases, casinos places limits on how much money you can withdraw each week or each month.
Let's take a look at the terms and conditions from Lucky Red Casino:
"11. With the exception of Network Progressive Jackpot wins, the maximum withdrawal per week is $/£/€4,000 or 25,000 ZAR. As such cash out requests of a larger amount will be paid in weekly installments."
What they are saying is that the most you can withdraw in any one month is $16,000 unless you win a progressive jackpot. This one actually isn't too bad by US gambling standards. If Lucky Red had one of those ridiculous $2500/month limits, I wouldn't even bother with them.
Even so, this is a perfect example of what I'm talking about. To be fair, online gambling sites DO NOT have it easy when it comes to processing payments. They have to be very careful about running afoul of international banking laws.
I can live with $16,000 a month at a USA casino. But if it gets any lower than that, it's not a good. Check the terms and conditions of any gambling site to make sure they don't have extremely limited maximum withdrawals.
This issue doesn't get much attention because most people don't run into this problem. I don't know what the average deposit is for a new player, but I would guess that it's around $100. With such a small average deposit, most players aren't going to run up balances of $10,000 or more. Thus, the maximum withdrawal limit isn't a problem for most people.
But if you're fortunate enough to go on a massive heater and run up an account worth ten, twenty or even a hundred thousand dollars, you'll run into the weekly or monthly withdrawal limit. What a bummer.
Bonus Issues
Bonuses cause so many withdrawal issues that sometimes I wish we didn't even have any of these stupid bonuses. One of the most widespread issues with bonuses and withdrawing is that casinos almost never let you withdraw the bonus money.
You can wager with the bonus and win money with it, but you can't withdraw the original bonus. Any money that you win with the bonus can be withdrawn, but the bonus itself is almost never cashable. Some bonuses ARE cashable, but the vast majority are not.
Ok, that one's not so bad. It makes sense in my mind at least. The bonus money can be gambled and wagered, but it isn't just free money that you can withdraw. All right.
If only it ended there.
You have to be very careful with some signup bonuses. If you read the terms and conditions, you'll see that if you wager on "restricted games" while clearing a bonus, it can void ALL the winnings earned from that bonus.
Additionally, many welcome bonuses come with clauses that state if you initiate a withdrawal before you finish clearing a bonus, all winnings from the bonus will be voided. You have to be careful when navigating casino bonuses.
That's why one of my key pieces of advice to players who win big jackpots is to make sure there are no pending bonuses and to also give customer support a call to make sure it's OK to withdraw. Unfortunately, some of the shadier casinos out there look for every excuse to avoid paying winnings.
Predatory Clauses
This is kind of a catch-call category for all the other funny things that some casinos do in order to avoid honoring withdrawals. One that I found just now with a casual search comes from Diamond VIP Casino's terms and conditions page:
"Should a player abstain from the Casino for a period of 3 months or more then the Casino will be entitled to any balance in that players account and the sum forfeit. Should the player wish to withdraw this amount after this period, we will examine each situation on a case by case basis but reserve the right to invoke the above 3 month rule."
There's no good reason to have a rule like this. Yes, I know they don't want a bunch of dormant accounts sitting there, but they CAN make interest off this money. It's not like they are doing you a service by holding onto your money and padding their cash holdings.
What they are doing is looking for any excuse to confiscate your funds. So if you do decide to play at this gambling site, make sure you don't take any extended vacations or get hit by a hurricane.
And here's another one from that same casino:
"All deposits require a one time (x1) play through. This means a player cannot withdraw a balance unless he/she has wagered an amount equal or bigger than the last deposit amount."
Ok, on one hand I can understand that they don't want to pay for a bunch of people depositing, not playing and then withdrawing. It does cost them to process these transactions. But seriously, is it really such a problem that they need to insert these kinds of terms?
This one actually isn't terrible, but it's still an example of what I'm talking about here. You should always give the terms and conditions a read before you play. You never know what you'll find hidden deep in the legal mumbo-jumbo.
And here is YET ANOTHER clause from that same casino:
"All Deposits of 249 USD/EURO/AUS or less have a max withdrawal of 10X the deposit for that specific play session (all other currencies pegged to USD). Once a withdrawal is requested, the casino applies the 10X rule and corrects the withdrawal to accurately reflect the 10X rule. The remaining funds are deemed "Non-Withdrawable" and are cleared from the player's balance. Deposit bonuses used during a play session that results in a pending withdrawal request, are also "Non-Withdrawable" and can be deducted from that particular pending withdrawal."
I've read this one about 10 times and still don't understand what it means exactly. In all likelihood, they left it vague on purpose. All I know is that they don't treat small players very well. There is absolutely no excuse for a clause like this one. It's ridiculous.
These are just a few examples of predatory clauses. I'm sure there are many more out there. My final piece of advice to you is to read the terms and conditions page at any online casino before you deposit. If you get a signup bonus, make sure to read the terms associated with that bonus as well.