There's a little-known trick that I use often in my search for safe online casinos. It's a special search that uses Google to find out what real people think about specific casinos. I like this trick because it tends to be more reliable than casino review websites for finding legitimate casinos.
Let's say you have a specific casino in mind. In this case, let's use Cherry Red Casino. If you do a Google search for "Cherry Red Casino," you'll get a list of results that look similar to this: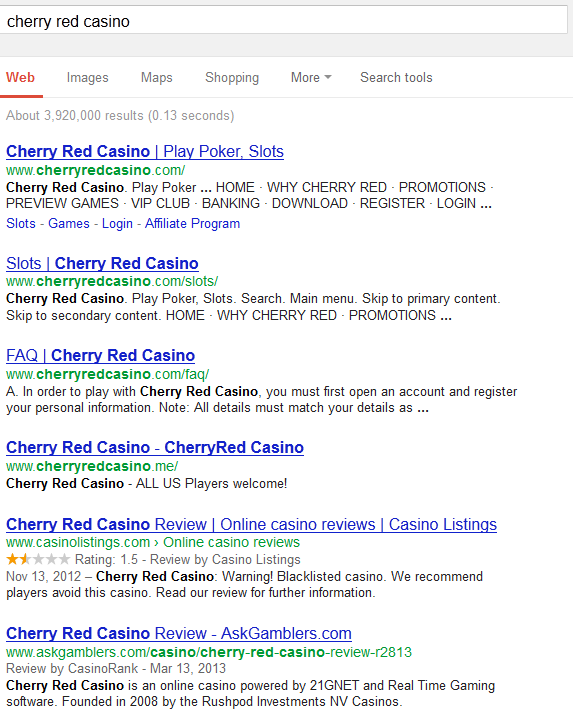 I chose Cherry Red Casino for this example because it is actually not a good place to play. They have been having lots of problems paying players over the past couple of years and have attempted to hide their problems.
You can see that on the front page of results, only one of the listings contains a warning that Cherry Red may not be a good casino. All the other results are either pages directly from Cherry Red itself or from websites that promote Cherry Red.
This is not good. If you happen to miss that one negative listing, you might be led to believe that Cherry Red Casino is a safe place to play. However, there's a little trick you can use to get results that are more trustworthy.
It's called the Google discussions search. You can narrow down the search results to include only results that come from discussion forums and Q&A websites. I trust these reviews more because they are written by people who don't run moneymaking websites. They are posted in discussion forums where people chit-chat back and forth.
All you have to do is run a search like normal and then click on "tools" then "discussions" as shown below: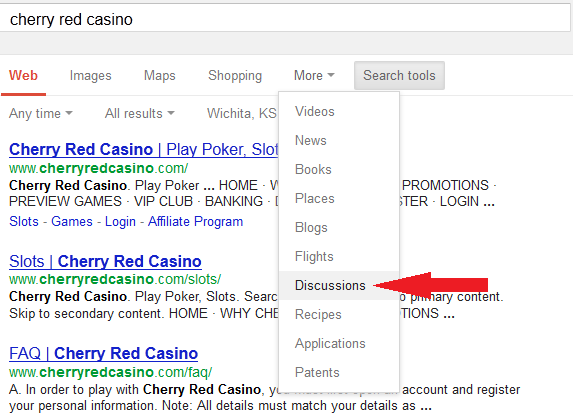 This will filter the results to discussion boards. Here's what we get after choosing that option: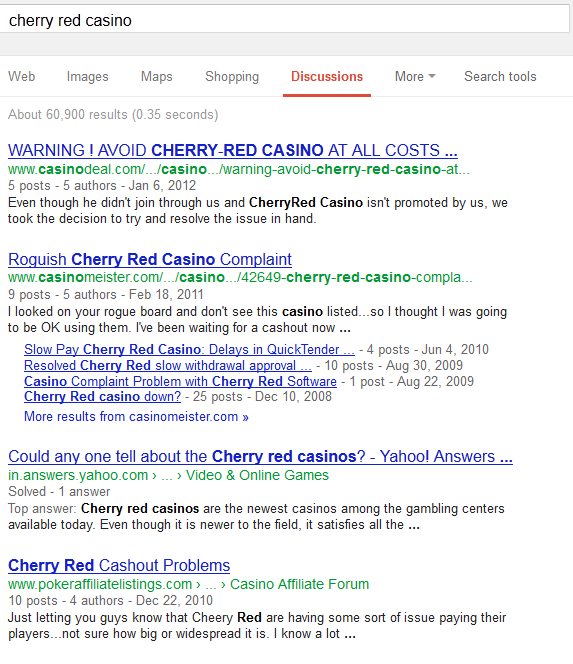 Wow. The difference is amazing. The first set of search results is mostly positive and would lead you to believe nothing is wrong at Cherry Red Casino. The second set of results begins with a massive warning in all caps. That, my friends, is why I use Google discussion searches when looking for unbiased reviews.
This little tricks works for more than just online casinos. You can also use Google discussions to search for unbiased reviews of eBooks, productivity tools, hotels and much more.
Google discussion searches tend to be more reliable than regular searches, but remember they aren't perfect. There is nothing stopping people from signing up at big discussion forums and trashing their competitors or pumping up their own products. But for the most part, discussion searches are better than regular old Google searches.
You can also use the "search tools" button at the top of the results page to sort the results by date. You can use the date function to see if any casino has improved or gotten worse over time. The date function can help you get the most up-to-date info available on the web.
Tagged with: safe casinos