This kind of blog post isn't likely to make me any new friends, but it's an important topic to discuss anyways. Most people know that you should probably avoid casinos that you've never heard of before. After all, those casinos are unknown and untested.
The gambling sites that cause the most damage to the industry are those that are both popular and unsafe. These casinos attract more new players than they really should. They earn top spots on casino top-lists and get all kinds of free publicity.
You can usually trust popular gambling sites, but there are a few exceptions. The casinos mentioned below are those exceptions. If you care about your money and you dislike predatory terms and conditions, you should avoid these gambling sites.
1-3. Rushmore, Cherry Red and Slots Oasis
These three gambling sites are lumped together because they all operate as a group. I'm not sure how exactly the ownership works, but all three casinos use the same software and employ the same people to represent them online.
Rushmore Casino, Cherry Red Casino and Slots Oasis have outstanding payment issues dating back to at least 2011. Players all over the internet are complaining about not being paid to this day. The few times casino management has attempted to address these issues have been disasters.
Reps from the casinos have visited popular discussion forums to lay the blame at the feet of unidentified "payment processors." They say that thanks to certain payment processors suddenly shutting down, there is nothing they can do. All they do is pass the blame on to some mysterious third party and say there is nothing they can do to make good on their outstanding payments.
The fact is the casinos owe players money. Other US-facing gambling sites continue to make payments to their winners, but the Rushmore group does not. Excuses and blame just don't cut it. All details aside, why would you play at a casino that can't pay? You don't.
Avoid this group.
4. Oddsmaker.ag
Oddsmaker.ag is primarily in the online sports betting business. It is a popular gambling site with a strong marketing team, but it is a terrible place to play. If you run a Google discussions search on Oddsmaker, you'll see dozens of player complaints dating back years.
Despite its strong marketing team, Oddsmaker is unable to sweep its problems under the rug. In one of the public player complaints, it was revealed here that Oddsmaker outright stole $45,000 from one player.
Oddsmaker and the group that owns Oddsmaker have a long, dirty history of theft and scamming. This betting company doesn't just act a little shady; it blatantly steals money from players. Even so, there are plenty of websites out there that still happily promote Oddsmaker and send unwary players to meet their doom.
Just earlier this year, a player reported at the Casinolistings.com forums that someone from Oddsmaker called and threatened him with physical violence. I can't verify the truth of this complaint, but it goes right in line with other thuggish behavior demonstrated by this sportsbook.
Oddsmaker knows it is a bad site and it even goes so far as to write reviews and publish them on its own website! In fact, I found three different variations of "Oddsmaker review" pages published on Oddsmaker.ag. This is an obvious and blatant attempt to push negative reviews down off the top page of Google's search results. I'm not going to publish live links to those review pages, but here they are if you're curious:
h–p://www.oddsmaker.ag/review-oddsmaker/
h–p://www.oddsmaker.ag/oddsmaker-review/
h–p://www.oddsmaker.ag/sportsbook-review/
Avoid this betting site and avoid any website that recommends it.
5. 5Dimes.eu
This one hurts to write because not long ago, I thought of 5Dimes as one of the last few respectable sportsbooks on the internet. Recent events have changed my mind about this company in a big way.
A player named "Dan" made posts at 2+2 (here) and SBR (here) explaining his situation. He started by making several deposits at 5Dimes and betting on sports just like anyone else. Later, he placed a progressive pleaser bet that was listed as paying 7000-to-1. The wager was actually supposed to pay much less than that, but it was listed incorrectly on the 5Dimes website.
If you're not familiar with sports betting, know that this situation does happen at times. In most cases, the law sides with the sportsbook. When thousands of wagers are processed every day, mistakes will be made.
However, this player called 5Dimes customer support and explained that he thought there might be a misprint on the website. Customer support told him everything was OK, but the player still wasn't sure. He asked to speak to a supervisor, and the supervisor also assured him the wager was correct.
So, the player went ahead and placed the wager and won roughly $3900 off the bet. He continued wagering after this and ran his account balance up over $32,000. There's a little controversy surrounding how this error should be handled, but here's where things get really good:
Someone named "Tony" from 5Dimes threatened this player in documented support chat logs: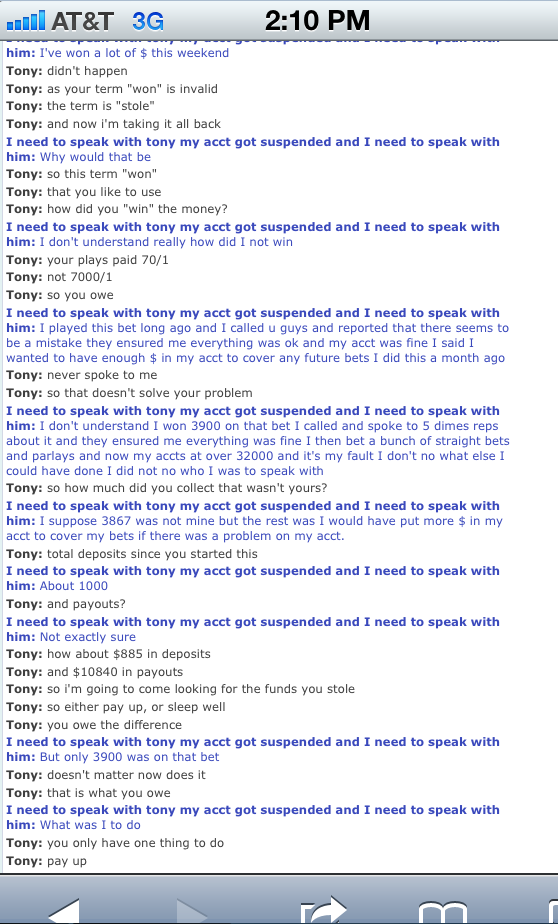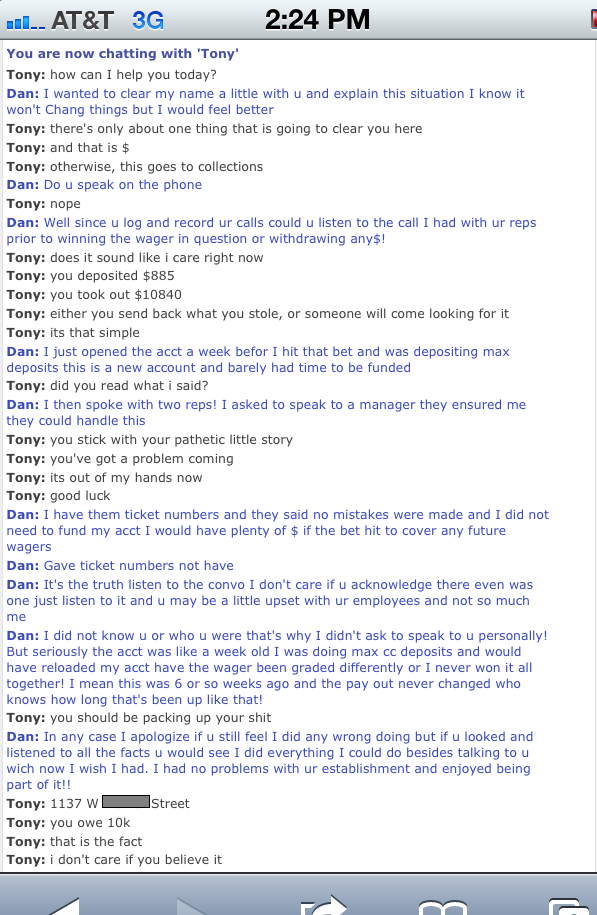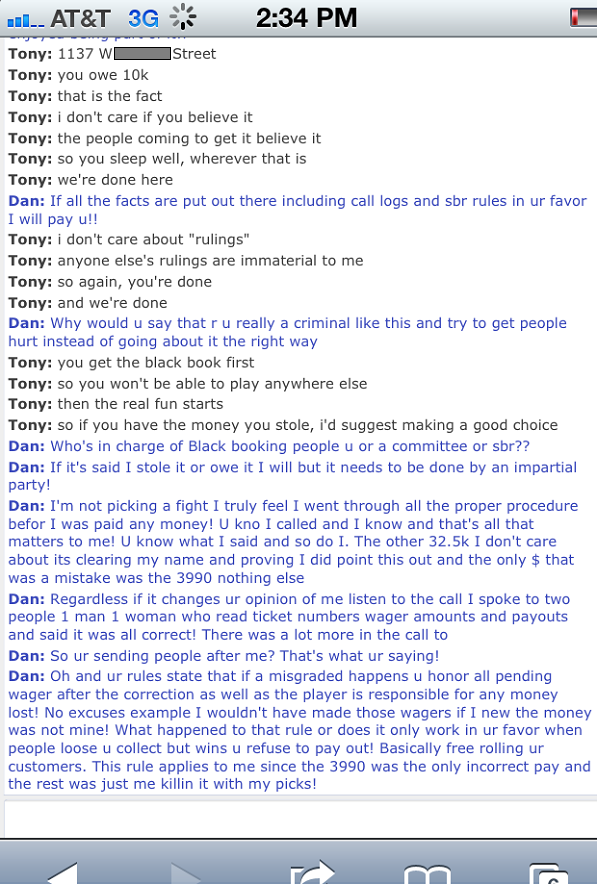 Do I even need to say anything else? What a crock.
This is why you should do your research before you sign up and play at any real money gambling site. It is incredibly important that you stick with reputable, well-known gambling sites.
Tagged with: blacklist