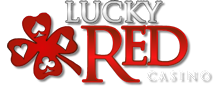 If you play real money blackjack on the internet, you may have already noticed that it is almost impossible to find bonuses that work with blackjack. The problem is that most casinos restrict blackjack from being used to clear bonuses.
See that big thousand dollar bonus at your favorite gambling site? Well, too bad. It's only for slots players. Or do you see that sweet reload bonus over at some other gambling site? Well, too bad. It doesn't work with blackjack.
Blackjack players just don't get enough love on the internet. The good news is that I've been following Lucky Red Casino for a while now and notice that they frequently release "no game restriction" reload bonuses.
As the name suggests, these bonuses work with games that are usually restricted at other online casinos. About once a week, Lucky Red Casino announces a new bonus on the promotions section of its website.
Sometimes, these weekly bonuses have absolutely no game restrictions. You still have to clear the bonus, but you can clear it just as quickly with blackjack as you can with slots or any other casino game. This is kind of a big deal because it is seriously hard to find real money bonuses that work with blackjack.
Even better, Lucky Red comes out with (almost) no-rollover bonuses every once in a while. No rollover bonuses are even crazier because they allow you to deposit, get a bonus and withdraw it whenever you want. You don't have to place a specific amount of wagers before you can get your hands on the money.
I know this probably sounds like a purely promotional post, but Lucky Red really is the only real money gambling site that I know of with these bonuses. You can go and search Google for these bonuses yourself if you want. If you know of other gambling sites that offer these kinds of bonuses, please do let me know.
Bookmark the promotions link above if you play online blackjack regularly. The bonuses usually come out towards the end of the week and only last for a couple days. Check the promotions area whenever you get a hankering to play a little blackjack, and you just might find a nice bonus.
Tagged with: blackjack