Photo by Mark Richardson
Did any of us ever really doubt there would be a rematch? Even in the post-fight interview when Anderson Silva talked about wanting to just go home and relax, I knew he'd be back. We all did. The most dominant UFC champion of all time doesn't lose a match like that and then just call it good.
The odds going into the first match hovered at around -280 for Silva and +220 for Weidman. The odds made perfect sense, considering that Silva had defended his title a record-breaking 10 times. Weidman had an impressive 9-0 record but he was still a relatively unknown name to casual fans.
Things are looking a little bit different this time around. The big bookmakers already have their odds up on the rematch (scheduled for December 28th 2013 at UFC 168). Once again, Anderson Silva is the favorite, albeit not as much of a favorite as last time.
The lines for the rematch opened at around -175 for Silva and +145 for Weidman last month, but the lines have tightened a little since then. Right now, here's what we have at each of the big betting sites:
Bovada.lv
(USA customers accepted)
Anderson Silva: -150
Chris Weidman: +120
5Dimes.eu
(USA customers accepted)
Anderson Silva: -135
Chris Weidman: +115
Bet365 and William Hill haven't yet put up odds for UFC 168 but you can be sure they will get those odds up eventually. Those sites are both great choices for all non-US MMA fans.
The Problem
Man, this is such a hard one to call. Anderson Silva looked like a goofball at UFC 162 but you have to remember that's how he fights a lot of the times. When he wins like that, we call him a genius. When he loses like that, we call him a clown.
This fight would be so much easier to call if the first one would have ended any other way. Chris Weidman was supposed to be a nightmare matchup for Anderson Silva on paper. Chris was an All-American wrestler and very dangerous on the ground. He had the takedowns plus good enough hands to be a threat for Silva.
Of course, fans were skeptical. How many times has someone been a supposed "nightmare" matchup for Silva? Time and time again, Silva has shown that he has what it takes to defend against all comers.
If Weidman would have just wrestled Silva to the ground and finished him there, it would have looked like all those people calling it a nightmare matchup were right. It would be easier for me to say now "Yea, Weidman just has the right tools to beat Silva."
But of course it couldn't be that simple.
Instead, Anderson Silva clowned around, convinced Weidman to stand up and trade blows (at which point I was screaming at Weidman to shoot dammit, shoot) and ended up getting knocked out off a weird combination.
So, the question is this: Did Chris Weidman win the fight or did Anderson Silva lose the fight?
The debate still rages fiercely, with both sides contesting their version of events. It's actually funny to visit the Sherdog forums and watch both sides call each other idiots, nuthuggers and worse. It just goes to show that the rematch is not an easy one to call.
The Pick
Chris Weidman.
If this were an even-money matchup, I'd probably tell you to just flip a coin and enjoy the show. But with Weidman coming in as the underdog, smart money will go to him. Remember, he did outwrestle Silva in round 1 of the first fight.
The first round easily went to Weidman. He got the takedown and scored some nice ground 'n pound on the champ. People brushed this off at first, but a closer look later shows that Anderson may have lost his senses for a second there. See this animated gif: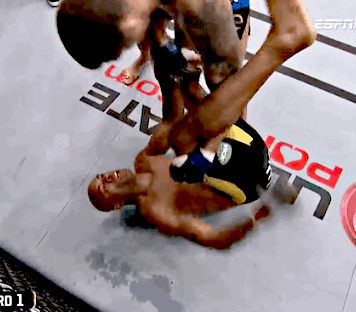 Then, Weidman came very close to closing a knee bar and a heel hook. Silva escaped, they traded on their feet for a bit, Silva began his taunting game, landed a nice leg kick and the round came to a close. The 2nd round began with more taunting from Silva, who also easily stuffed a half-hearted takedown attempt from Weidman.
This is where everything went downhill for Silva. He amped up his taunting to the point of even feinting being stunned. Weidman came in with a flurry, including a weird backhand-thing that ends with the left hook that knocks Silva out cold.
The weird thing about the 2nd round is that we all thought Chris Weidman was falling for Silva's antics. It looked like Chris had abandoned his strong suit (wrestling) and stepped into the Matrix with Silva. Chris Weidman managed to end the fight with standup…. Which surprised just about everyone watching.
The big question here is if Chris Weidman got lucky or if he is just the all-around fighter that some suspect. Can Serious Anderson come back for the rematch and put a beatdown on the new champ?
It all comes down to if you think Anderson's taunting was a last-ditch effort against a superior and more-well-rounded fighter or if you think Anderson just got caught doing what he always does.
My money goes on Chris Weidman for two reasons. First, Chris clearly dominated the first round. He got the first takedown with ease, controlled Anderson on the ground and nearly ended the fight with both GNP and submissions.
The second round was weird, but a win is a win.
On the other hand, let us not forget that Anderson Silva is no slouch. If he comes back motivated, he could very well end the fight on his own terms. Chris did dominate the first fight, but Anderson is known for sudden, devastating attacks that can turn a fight around on a dime.
But still, a win is a win. We do not yet have conclusive proof that Anderson Silva can defeat Chris Weidman. And that leads to the second reason why my money goes on Weidman: he is the betting underdog.
I just don't see the value in taking -150 odds on Silva at this point. Anderson can very well win the rematch, but the odds just don't justify betting on that outcome. Weidman has both history and the odds on his side. Take the +120 on the defending champion for the best value for your money.
Tagged with: UFC